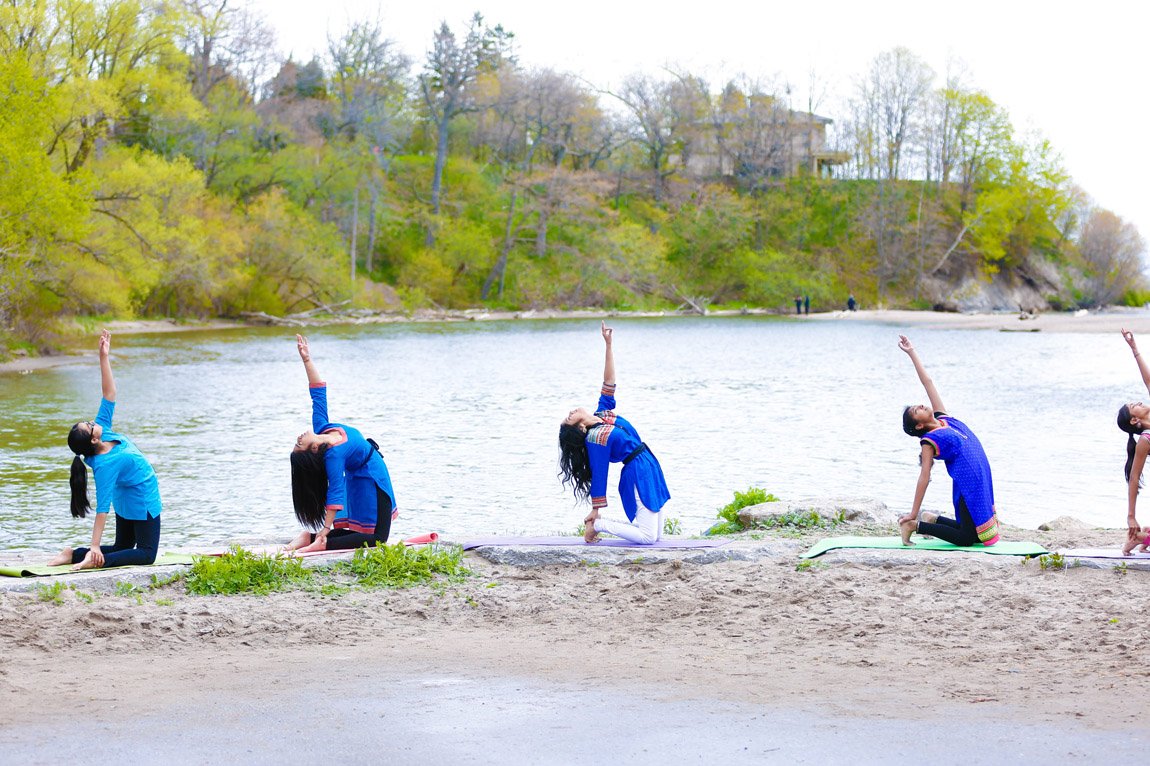 What is the difference between Hatha, Kriya, Vinyasa Flow, Iyengar and Ashtanga?
Hatha, Kriya,Vinyasa Flow, Iyengar and Ashtanga are all forms of Hatha Yoga (Ha- Sun ,Tha – Moon, balancing the two energies), so they use the same postures and basic principles. Hatha Kriya,and Iyengar are best if you are new to Yoga, as they are slower and great for learning the basics. Iyengar is an alignment based, precise style where postures are generally held for a longer period of time. Kriya yoga is more spiritual oriented practice based on Kriya Babaji's fivefold yoga principals. Hatha Flow, Ashtanga and Vinyasa Flow are faster and more dynamic, linking breath and movement. Ashtanga classes always follow a progressive set sequence, generally holding each pose for 5 breaths.
What actually happens in a Yoga class?
When you arrive at the studio we will have either a receptionist or the yoga teacher there to welcome you and sign you in. Please arrive at least 10 minutes before class to give yourself time to change, and tell the teacher about any injuries or illnesses you may have.
Once you have been signed up, you can usually go straight to the studio and grab yourself a mat, and find somewhere to sit or lie down to relax before class begins. Each class is slightly different depending on the teacher, but most classes start with a few moments of 'settling', where you begin to focus on your body, mind and breath. The majority of the class is spent doing "asana", which means posture work. This is where you hold difference shapes with your body, and try to keep your mind from wandering. The end of class is usually taken lying down on a mat. Bring your own blankets and eye pillows to help you to fully relax. If it's cold we suggesting wearing socks and a jumper when you first go up to the studio – you will take these off to practice, but you might like to wear them at the end of class to stay warm.
Do I need to bring anything?
We have yoga equipment here so you don't need to bring anything. Wear comfortable clothes – leggings, shorts or jogging bottoms are all fine, and a comfortable top (preferably tight fitting, or something you can tuck into your trousers).
Do I need to book?
We recommend booking as our classes can get busy, but this is not essential. Visit our timetable and select the class you'd like to book.
How much does it cost?
As per traditional yoga, Students need to pay for the Teacher (Guru), which call as Gurudhakshina (offer money to guru), to keep this easy, we have one straight forward payment method. Only $60 per month (No other Yoga Studio offer this amazing pricing) A student can attended maximum 3 classes per week, Fee will remain same even you attend less classes for the month, This is to motivate everyone to use their maximum to get benefit by going yoga class, Our motive is not money…..Just to transform the traditional yoga practice to next level by offer affordable pricing to everyone to participate.
Sorry, We don't have any drop in class, Because most of the our class get full by regular students, We don't believe in Drop in class, Which won't provide benefit for both parties,But we understand that student need to know or feel the class before make the commitment, So we offer one FREE trail class, by pre booking.
How do I find you? Do you have parking?
You can find a map of our location and parking information here.
I have an injury, can I still come to class?
It depends on the injury, but most yoga postures can be adapted to suit any injuries and conditions, or alternatives can be given which will have a similar or more therapeutic effect. We recommend Hatha,Kriya or Iyengar Yoga if you have an injury.
You must let your teacher know if you have any injuries or conditions before the class starts. If you are unsure – give the studio a call on 905-781-9796 and we will do our best to advise you.
Can I eat before class?
We recommend you don't eat 4 hours before coming to yoga. If that isn't possible for you, then snacking on light food like fruit or oatcakes would be better than eating a heavy meal.
Can I drink water during class?
Usually it is not recommended to drink water during class, but if you feel like you would like to have water with you, you are welcome to take it. Please only bring water up to the studio in a bottle as glasses are often spilt. We have a kitchen area where you can help yourself to water before and after class also.
I'm too nervous to come to a class, what should I do?
We offer an Intro to Yoga course on Tuesday, Thursday morning & evenings which is specially designed for people who have never done yoga before. The group is smaller than in our drop in classes, and all the students will be beginners.
We also offer courses for beginners on Sunday and Monday evenings. These are perfect for anyone looking to understand the principles behind yoga, and is a great follow on from the Intro to Yoga course.
We also offer one to one sessions for individuals or small groups which is a great way to build your confidence and learn the basics. Contact the studio to find out more.
I have never done any exercise before, can I still come?
Definitely! Yoga is for everyone, and although at the beginning some of the postures might seem hard, you'll be amazed at how quickly you can feel the benefits. Just let the teacher know at the beginning of class.
You might also want to consider coming along to our
Intro to Yoga course.
Can men/ older people/ pregnant ladies do yoga?
Yoga is for everyone regardless of gender, age or whether you are pregnant. At Master Yoga we have a number of members who are male so you will not be alone. If you are pregnant, we recommend coming to one of our Pregnancy Yoga Classes, where our teachers are qualified specifically to teach pregnancy yoga.
Who are your teachers?
All of our teachers have at least 4 years' experience teaching yoga – many have much more. All of them are fully qualified to teach Yoga and have a dedication to both practicing yoga and teaching it.
Founder of the Master Yoga ,Jey Siva, Professor of the Yoga, Annamalai University Canada Campus (largest & oldest south Asian University ,with 120 years history) , E-RYT yoga alliance,And he hold M.Sc in Yoga, Reading P.hd in yoga, With 18 years of teaching experience, Hold many alternative therapies qualifications including Acupuncture, Siddha Marma, Ayurveda, Dorn method & IMM .He is also Certified Management Accountant ,Yoga is his life Passion .
Speciality of the Master Yoga is, Founder and Head teacher also teach regular classes on weekdays, weekends and meet students personally to review the progress of the students/participant/teachers. Find out more about our teachers.